Story by Kristina Nguyen, Anna Maria Ward, Azizza Williams, and Shelby Light
Beyond the usual difficulties that accompany mental health concerns, women of color face identity-based barriers that prevent them receiving the help they need. According to the National Institute of Mental Health, minorities in the United States are less likely to have access to mental health services and more likely to receive lower quality care. In addition to financial obstacles, women of color are also forced to confront specific cultural stresses and traumas and further stigmatization as a marginalized group with multiple intersections of identity.
"When I do think about mental health being talked about, I feel like I think about white men is who they [society] mostly talks about. I don't think our specific experiences are taken into considerations," said Jacky Ramos, a fourth-year international relations and global studies major at the University of Texas at Austin.
For many women of color at UT, the stigmatization of mental health starts at a young age. Communities of color often follow a tradition of silence around mental health, leaving those suffering to do so alone. Ramos has seen this attitude within her own Mexican-American family.
"My dad started talking about depression and he said, 'It's not a thing that existed in our time, it's a new word to us,'" Ramos said. "It wasn't talked about it growing up at all. I guess [because of] the stigma of, if you have problems, you're crazy or something."
Although her issues with anxiety in high school were initially greeted with confusion by her parents, they have made more of an effort to be more understanding.
"As I got older, I wondered if anybody in my family has struggled with this too and nobody ever talked about it and maybe they don't even know that they're struggling with it," Ramos said.
For Jasmine Bell, a third-year psychology major at UT, her depression was also met with misunderstanding. In her half-Asian, half-white household, she found that mental health was stigmatized in both cultures. However, like Ramos, Bell said that explaining her battle with depression to her mom helped her become more sympathetic.
"My mom's first reaction to it was sort of like, 'Think about happy things,' because that sort of stuff always worked for her. It's sort of like, 'If you're depressed, don't be,'" Bell said. "Once I explained it to her a lot, then she understood."
Although Ramos and Bell have found some support from their family, they acknowledge that their experience is not reflective of all women of color. Both said they had friends whose parents invalidated or ignored their issues with mental health.
"There can be a lot of myths about mental health care and what it means to seek it," Dr. Kim Burdine, a diversity coordinator and licensed psychologist at the Counseling and Mental Health Center at UT, said. "Sometimes you can get messages that it's perceived as weak or that you're somehow being disloyal to community or family by going outside of community to get help."
The lack of representation among health care professionals also impedes women of color from receiving adequate health care. It can cause feelings of alienation, discomfort, and at worst, subject clients to further discrimination. Bell's first therapist, a white man, made her distrustful of other counselors. She felt that he never understood when she talked about her experiences with racism, sexism, and other systems of oppression.
"Once, I said I felt insecure because of my weight and disability and he was like, 'One time, me and my friends went to a strip club and there was a disabled dancer and it really turned all of us on so really, you don't have anything to worry about,'" Bell said. "I stayed with that therapist for years because I was like, 'Well, he knows more than I do.'"
As a black female student from a working-class background, Burdine said she sees the ways in which her identity can be a space of comfort for clients with marginalized identities. According to a study by the National Center for Biotechnology Information, perceived personal similarity, particular in race, is associated with higher ratings of trust and satisfaction. Ramos said she believes a female therapist of color would be able to relate better to her experiences of identity-based feelings of exclusion.
In addition to short-term counseling, the CMHC at UT currently offers a variety of drop-in discussion and support groups for people with marginalized identities, such as Finding Our Voice: A Women of Color Discussion Group and Soul Siblings: A Healing & Restorative Skills Group of Black Women, both facilitated by Burdine. The center also partners with other departments around campus, such as the Multicultural Engagement Center, to offer services in more familiar student spaces. However, there is still much to be done in improving mental health resources for women of color at UT. Burdine said that visibility and representation are two important strategies, but are just a part of a ongoing journey.
"I really do believe that it's a lifelong process," Burdine said. "I hope we'll continue to do more and all that we can and I hope we never stop."
Women Who Received Mental Health Treatment the Past Year by Race/Ethnicity, 2010–2011
Source: National Survey on Drug Use and Health. (2013). 2-year R-DAS (2002 to 2003, 2004 to 2005, 2006 to 2007, 2008 to 2009, and 2010 to 2011). Analysis was run on May 17, 2013 (02:34 PM EDT), using SDA 3.5: Tables (Women of color having received any mental health treatment in past year). Generated at https://www.icpsr.umich.edu/icpsrweb/SAMHDA
Female High School Students Who Seriously Considered Attempting Suicide, Made a Suicide Plan, or Attempted Suicide by Race/Ethnicity, 2011
Source: Centers for Disease Control and Prevention. (2012). Youth risk behavior surveillance—United States, 2011. Morbidity and Mortality Weekly Report, 61 (4), 35–40. Retrieved from https://www.cdc.gov/mmwr/pdf/ss/ss6104.pdffa
How Caucasian, African-American and Hispanic Students Rated Their Emotions During Their First Term in College, 2016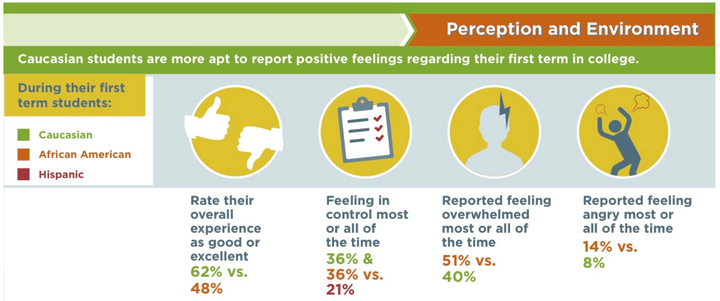 Source: https://www.huffingtonpost.com/entry/students-of-color-mental-health_us_5697caa6e4b0ce49642373b1
Depression Symptoms by Race, Gender, Education Level, and Income Category
Relationships of Racism and Transphobia to Depression Symptoms, Multivariable, and Bivariate Associations
Source: https://www.ncbi.nlm.nih.gov/pmc/articles/PMC4205968/